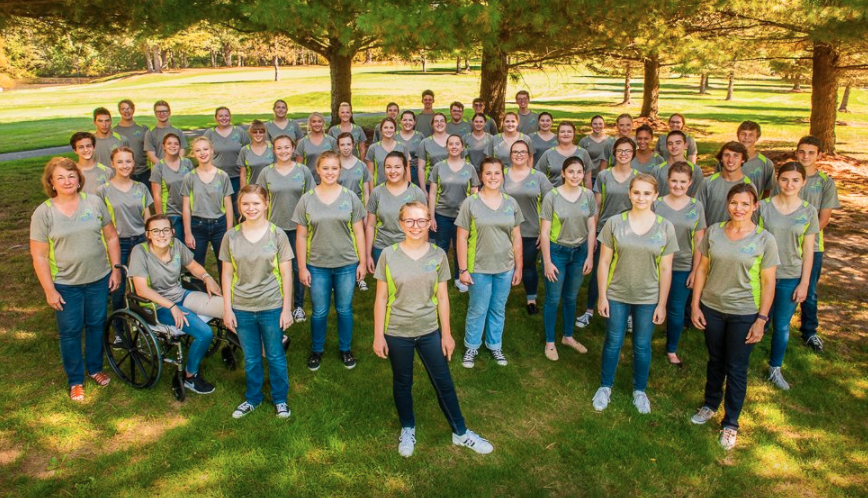 The Little Miami High School Select Women's Chorale has been invited to perform at the premiere Music for All National Choir Festival, part of the 2018 Music for All National Festival in Indianapolis March 15-17, 2018.
The Select Women's Chorale was selected by a panel of renowned choral conductors, by recorded audition, to be one of the charter groups singing at the debut national event.
"2018 marks the 27th year of the Music for All National Festival which has served concert bands, orchestras, and chamber and percussion ensembles," says Eric L. Martin, President and CEO of Music for All. "We are thrilled to welcome choirs to the Festival beginning next March." Choral Artistic Director, Henry Leck, adds "With this addition, we truly become Music for ALL!"
Music for All is one of the nation's largest and most influential organizations advocating in support of music education. The Music for All National Festival showcases the finest music ensembles and student musicians in America, shining a spotlight on outstanding music-making and the importance of music education.
Little Miami High School Select Women's Chorale is one of 71 high school and middle school choir, orchestra, chamber ensemble, concert band, and percussion ensembles from across the nation selected to perform at the 2018 Festival. Performing ensembles participating in the 2018 Festival come from 20 states including: Alabama, Colorado, Florida, Georgia, Illinois, Indiana, Kentucky, Louisiana, Maryland, Mississippi, Nevada, New York, North Carolina, Ohio, Oklahoma, South Carolina, Tennessee, Texas, Virginia, and Washington.
The Little Miami High School Select Women's Chorale is under the direction of Sarah J. Baker, who established the chorale in 2003. Since 2007, students in the select choirs have participated in workshops with guest conductors, either at LMHS, or on ensemble trips, working with conductors at New York University, Northwestern University, University of Pittsburgh, University of Louisville, Belmont University, Drexel University, Temple University, The Ohio State University, University of Cincinnati-College Conservatory of Music, Xavier University, and the Cincinnati May Festival Youth Chorus.
In 2016, present members and alumni combined to create the Little Miami Tour Chorale. These young women travelled to Italy and Austria to participate in the Musica Mundi International Choral Festival, Musica Eterna Roma, bringing home three gold rankings, two division championships, and earned a place in the Grand Prix finals. Highlights of the tour included singing for Mass in St. Peter's Basilica in Rome and St. Mark's Basilica in Venice. This collaborative ensemble's next adventure will take place in Germany for the first Sing Berlin! International Choral Festival and Competition, including concerts in Leipzig, Prague (Czech Republic), and Vienna (Austria).
Festival and ticket information will be available at www.musicforall.org/festival or by calling 800-848-2263.