Little Miami High School
Grades 9-12
3001 E. U.S. 22 & 3 • Morrow OH 45152
513.899.3781
---
Doors Open: 7 a.m. • School Day Begins: 7:15 a.m.
School Day Ends: 2:10 p.m.
News & Announcements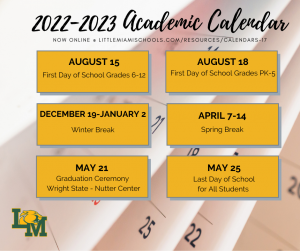 2022-2023 Academic Calendar Approved
Posted on: January 27, 2022
Blog Entry Synopsis Begin
Mark your calendars Panther Families - the 2022-2023 Academic Calendar has been released! This calendar was approved at the January 25th Board of Education Meeting after giving LM staff & the community time to reflect on two draft calendar options and
Blog Entry Synopsis End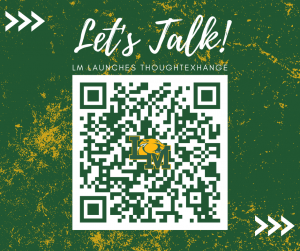 We Want to Hear From You! How Can We Improve Communication?
Posted on: January 24, 2022
Blog Entry Synopsis Begin
Little Miami is now utilizing an innovative communications tool to engage with the community & gather public feedback! ThoughtExchange allows the community to give insight and perspectives to LM administration that will help us gauge outreach success and
Blog Entry Synopsis End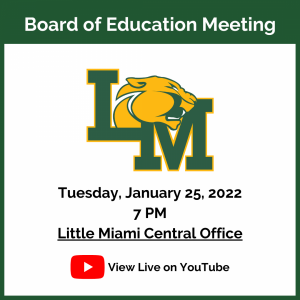 Notice of January Board of Education Meeting
Posted on: January 23, 2022
Blog Entry Synopsis Begin
The Little Miami Local Schools Board of Education will meet in regular session on Tuesday, January 25th, 2022 at 7 p.m. The meeting is open to the public and will be held in the Panther Room at Central Office. We will also be livestreaming the meeting
Blog Entry Synopsis End