Side Menu Ends, main content for this page begins
Back to Side Menu (includes search)
May 2023 Panther Pride Award Recipients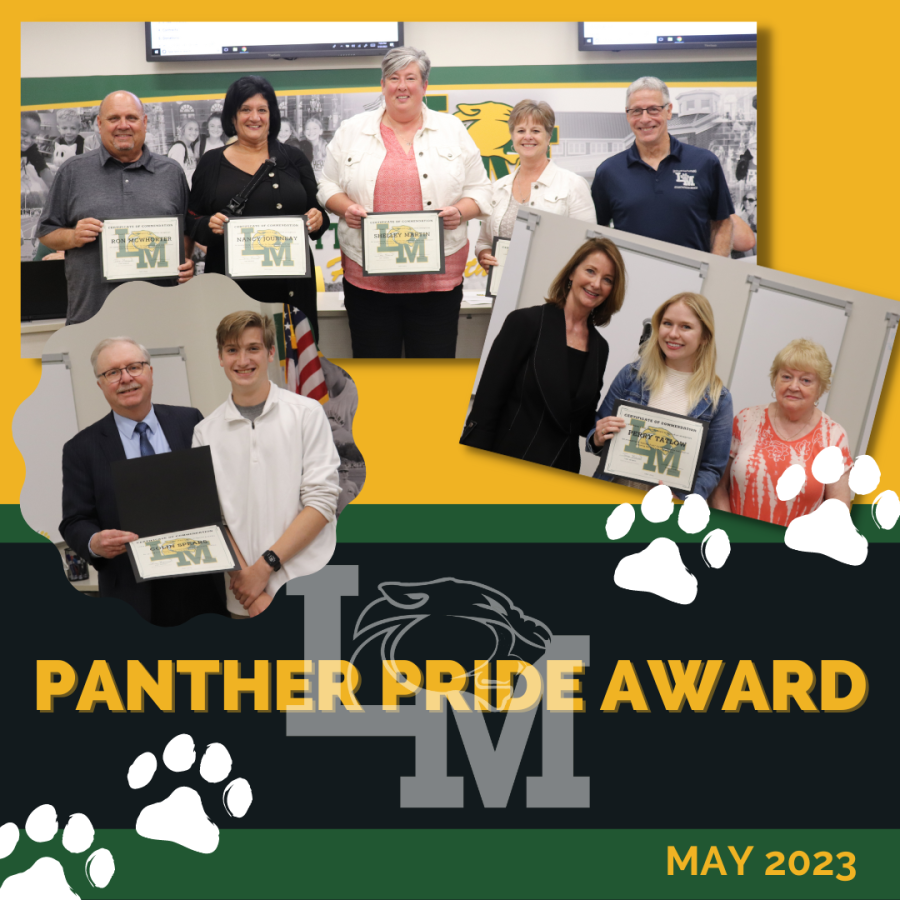 Our final Panther Pride Award recipients for this school year were recognized at last evening's Board Meeting & we sure saved some well-deserving Panthers for last!
Perry Tatlow – Art Teacher at LMMS was celebrated for her hard work in planning and organizing the annual Fine Arts Festival. This year's festival was one for the record books – both in attendance and for how well thought out the Pop Art themed event was!
Shelley Martin, Nancy Journeay, Kelly Oeder, Ron McWhorter, Roscoe Ronto, Linette Petry, and Paul & Pauline Panepinto were publicly thanked for the work they invested into this year's Staff Appreciation Dinner - putting countless hours into event organization and food preparation that incredibly transformed the Multipurpose Room at the high school into an Italian dream. Staff were treated to a truly special evening, thanks to the work of these Panthers (and Panther relatives) stirring loads of sauce, boiling pounds of noodles, and rolling hundreds of meatballs.
Finally, LMHS Junior Colin Spears was honored and thanked for his service as Student Board Representative for the 22-23 school year. The Board has truly appreciated Colin's perspective and the time he took out of his personal life, especially as a young person, to attend Board meetings.
It has been a great year celebrating our INCREDIBLE staff, students, and community members who have stepped up for our learning community! We look forward to continuing this tradition next school year.