Side Menu Ends, main content for this page begins
Back to Side Menu (includes search)
How LMES is Using Sensory Spaces to Enhance Learning Environment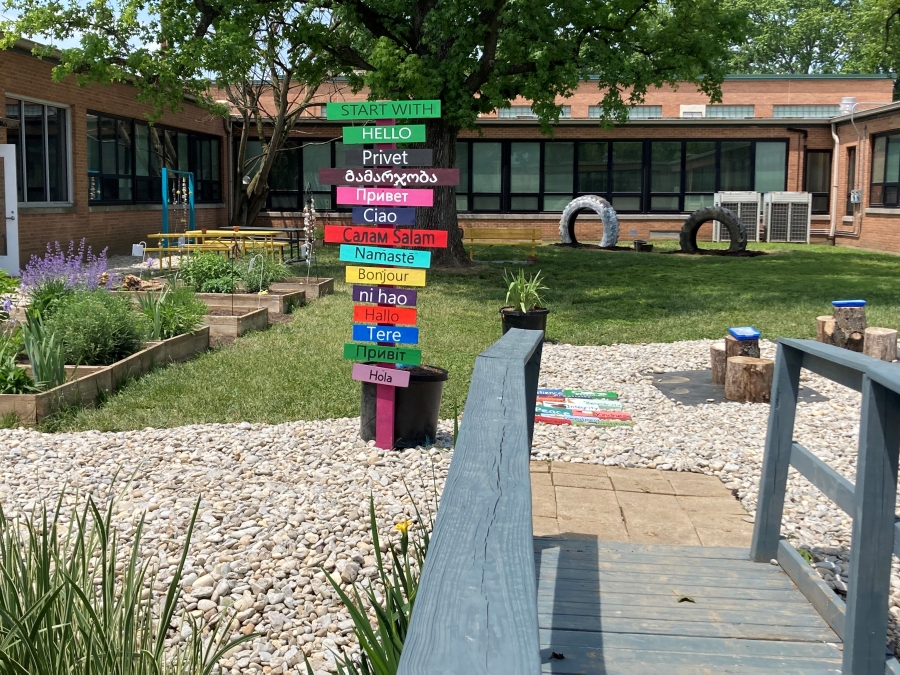 Amazing things have been "growing on" at LMES all year! Building on the hard work done by a previous Eagle Scout project, LMES staff members, led by Counselor Dawn Gasper and STEM Teacher Stephanie Greishop, two incredible spaces- a Sensory Courtyard and Room- have been created for students to use to learn, destress, and enjoy calming time.
The LMES courtyard has been transformed into a space for meditation, outdoor activities, classroom learning, or just a space for students to exert pent-up energy. During the initial cleanup phase of the courtyard project, an Eagle Scout cleared the shrubs around the pond, installed a balance beam, fixed and painted the bridge connecting the courtyard to the Sensory Room, planted raised garden beds with plants donated by Greenfield Nursery, and hung a hummingbird feeder.
After the Eagle Scout project was completed, STEM Teacher Mrs. Grieshop took a special interest in the Sensory Courtyard, as her classroom looks out onto the outdoor space. She took the initiative to build upon the work already done to further improve the experience for our 4th and 5th grade Panthers & staff. Mrs. Greishop sought online donations for sensory items, contacted local Master Gardeners and plant nurseries for assistance and guidance, received help from the LMES Nature Group – including support from retired LMES teachers, and organized efforts to include students and staff in the beautification efforts.
Students absolutely LOVE being in this space! Just last week, LMES held a "Clean Up Day," where students helped enhance their school's outdoor spaces even further – doing basic yard work jobs and cleaning up the area around LMES, with a special focus on the Courtyard. Mrs. Greishop says, "it has been wonderful to see how we can teach life skills using the outdoor space and see students really take ownership of their school!"
The Sensory Courtyard now boasts an interactive music wall, "Start with Hello" sign featuring all languages represented by students at LMES, nature game area, weaving board, sensory garden beds (with specific "see," "touch," "sniff," plants), and tables where entire classrooms can enjoy the space together.
In years to come, Mrs. Greishop hopes to get feedback from students and staff about what would be helpful or fun for the Courtyard, so that it can continue being a place of peace and relaxation, where students can enjoy learning and spending time.
LMES Counselor Mrs. Gasper has really thought outside the box when it comes to providing LM students with new methods to engage their emotions and get regulated, so they can return to a productive learning environment. Not only is she "mom" to LMES Therapy Dog Winston, but Mrs. Gasper has been absolutely instrumental in establishing and growing the Sensory Courtyard. Mrs. Gasper oversaw the original Eagle Scout project that cleared up the Courtyard space and has since made plans to have the pond treated, fish and plants added, and established a maintainable and low-cost plan to sustain the outdoor space.
Mrs. Gasper has branched out the relaxation of the Sensory Courtyard to include an indoor space – a Sensory Room for students and staff to find a moment of calm during the school day. The Sensory Room has plenty of comfortable, flexible seating options, books and mindfulness activities to enjoy, sensory items (kinetic sand and games), and so much more! This room is truly a haven for students to use when needed! Students can be found in this space, reading together in the tent, drawing on the chalkboard, or even getting a much-needed cuddle from Winston.
These beautiful and relaxing spaces would not have been made possible without the generosity of community members, local businesses, and LMES staff who have poured their heart into making LMES an even better place to learn and grow. Special thanks to the following for their efforts/donations: Mrs. Gasper, Mrs. Greishop, LMES staff, Greenfield Nursery, LMES PTO, Acomb Nursery & Landscaping, Alpha Phi Chapter of the Delta Kappa Gamma educational sorority, and so many other community volunteers! These spaces truly represent the community coming together to create beauty in and around our school building!