Side Menu Ends, main content for this page begins
Back to Side Menu (includes search)
ALL PK-12 Little Miami Students Remote 11/30-12/4
Posted on: November 24, 2020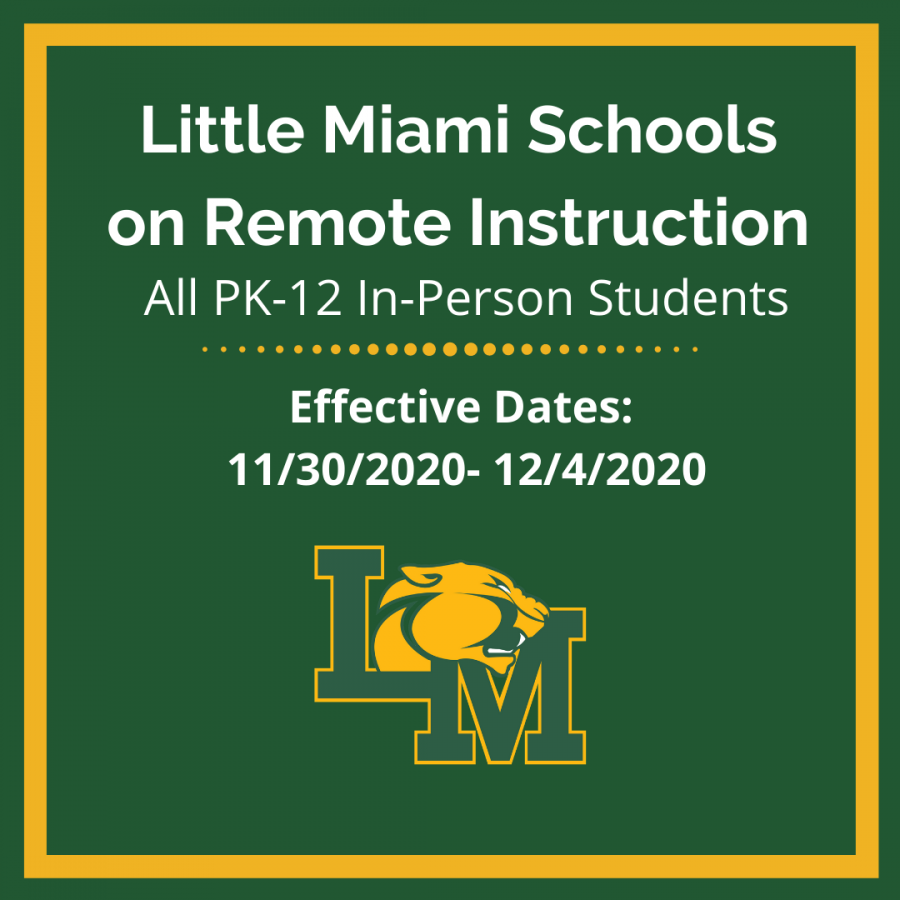 The health and safety of our students, staff and the Little Miami community will always be our top priority. Please understand that we must make decisions on behalf of over 5,000 students and in an unprecedented environment, that may lead to change and unpopular conclusions. We ask for flexibility and patience as we navigate the impacts of this pandemic together.
Over the course of the school year, there have been 68 student and 20 staff confirmed COVID-19 cases, with 1,877 student quarantines and 151 staff quarantines. In just the three weeks following Halloween, we recorded 63% of the student quarantines and 51% of the staff quarantines. We are anticipating similar, and even larger increases in confirmed COVID-19 cases after the Thanksgiving holiday. We hope to significantly limit the number of students that may have to quarantine because of those unknowingly infected people that would come back to school and prevent others that may have to quarantine after the break.
Out of an abundance of caution, all PK-12 students at Little Miami Local Schools will be on remote instruction effective Monday, November 30 through December 4, 2020. VLA students will continue with remote instruction as normal. Students will return to the in-person classroom on Monday, December 7, 2020.
By keeping students remote following Thanksgiving, our staff will have ample opportunity to complete proper contact tracing from any cases over the holiday break and allow time for our currently quarantined and positive staff and students to return to school. Please look for a remote schedule to be sent home from your student's teacher or principal.
Little Miami remains firm in dedication to providing quality instruction whether in-person or remote. With your student's health and safety in mind, Little Miami will persevere in education and keep the community informed as decisions are made. Stay healthy Panthers.
______
Meal Distribution and Pickup Information
Little Miami has been thrilled to offer free breakfast and lunch meals to ALL students through the 2020-2021 school year. These meals are nutritious and delicious- containing 10 servings of fruit, 5 cups of vegetables, 5 100% juice boxes and a half-gallon of milk! Families that would like to receive five days of meals (including 5 breakfasts and 5 lunches) can pick up meals on Tuesday and Wednesday of next week. VLA families may pick up meals any day or time they wish. There is no sign up required to receive meals, so if interested, please arrive at one of the following pickup locations/times:
Tuesday, December 1
LMIS (9 AM – 2 PM) – Pick up at service driveway Zoar side of building
Harlan Butlerville Primary (9 AM – 2 PM) -Door B3 near parent drop off
LMJH (9 AM – 2 PM)- Front of the building
Wednesday, December 2
LMJH (9 AM – 2 PM) -Front of the building
LMIS (9 AM – 5:30 PM)- Pick up at service driveway Zoar side of building
Salem Elementary (9 AM – 2 PM) -Parent drop off door
*Please take note, you will only pick up meals one time for the entire week. If you have questions regarding meal pickup, please contact Rachel Tilford: [email protected].
Tech Support
Do you want to limit back-and-forth in your support tickets? We do, too! Click here to submit a ticket to the Help Desk.
P.L.E.A.S.E. follow our best practices to include the most helpful information that will lead to more efficient interactions with our Support Team!
P.L.E.A.S.E.
P — People Impacted What are the names, roles, and email addresses of the impacted user(s)?
L — Links Provide links to where the issue is occurring. Provide the step-by-step clicks you took to view the behavior or error
E — Expected Behavior What are you trying to accomplish? What are you expecting to see occur?
A — Actual Behavior What is actually happening? What is the problem or question?
S — Screenshots/Screencasts The more visuals, the better!
E — Effect on workflow Does the issue interfere with daily tasks? Are there any deadlines that are threatened by the issue?