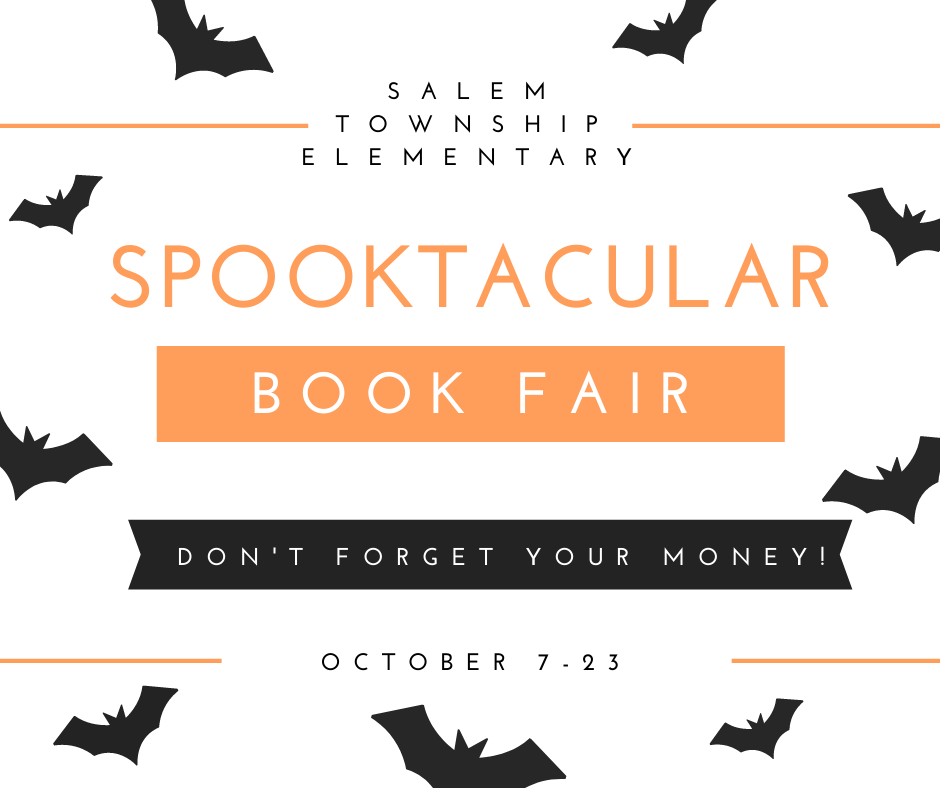 It's time for our Scholastic SPOOKTACULAR BOOk Fair! Don't be scared, grab a good BOOk!! The Book Fair (set-up in the 3/4 Gym) will run from October 7th through October 23rd. Students can purchase their favorite books during their classroom's Book Fair time slot. We've included the classroom schedules on the back of this page, and have included a Scholastic flyer with a small sampling of books being offered during the fair.
WE ARE OPEN during the Parent / Teacher Conferences on Thursday, October 8th and Thursday, October 15th from 4:30 to 9:00 pm. Masks are required, and social distancing will be observed.
A note about Scholastic's eWallet: Due to some policy changes at Scholastic, we will NOT OFFER eWALLET this year.
We are ROUNDING UP for ALL FOR BOOKS! ALL FOR BOOKS is a donation program that helps classrooms and students get more books! If a student is short a few cents on their purchase, the ALL FOR BOOKS program will cover it. Plus, we can use it to purchase books for classroom libraries. For every .50 cents donated, your student can pick out a water bottle sticker, a bookmark, or a hair scrunchy. In addition to helping our school, Scholastic will match this donation to help support other schools in need of classroom libraries.
YOUR CHILD'S CLASSROOM NEEDS BOOKS! Look for the teacher wish list board to buy classroom books!! What a great gift from your student to their favorite teacher!!
BOOK RAFFLE! For every book purchased, the student will receive a raffle ticket. There are TWO Grand Prizes of a BASKET OF BOOKS per grade, plus 20 additional winners of a free book. Students can also earn chances to get a raffle ticket with a "CAUGHT READING TICKET". The Salem staff will be randomly passing out "READING TICKETS" when students are caught reading a non-assigned book!!
During the daytime student Fair, posters, STEM kits, toys and higher-priced cashier items will not be displayed. These items WILL ONLY BE DISPLAYED/FOR SALE DURING CONFERENCES. We will have school supplies (pencils, pens, erasers and bookmarks) available during the day. If you would prefer your student not purchase these items, please send in a note with your child's book money.
We hope your student enjoys their experience at the Book Fair. We are busy getting our contests ready! There will be coloring contests for the Kindergarten students and fun counting contests for the 3rd/4th grade students. All the winners will win a free book from the Fair.
Parent Volunteers are needed to make this a very successful fair! If you are available for any of the sessions, please follow the link to our sign-up genius that has been rolled out by your student's teacher. Or watch for it on Salem PTO's Facebook page!