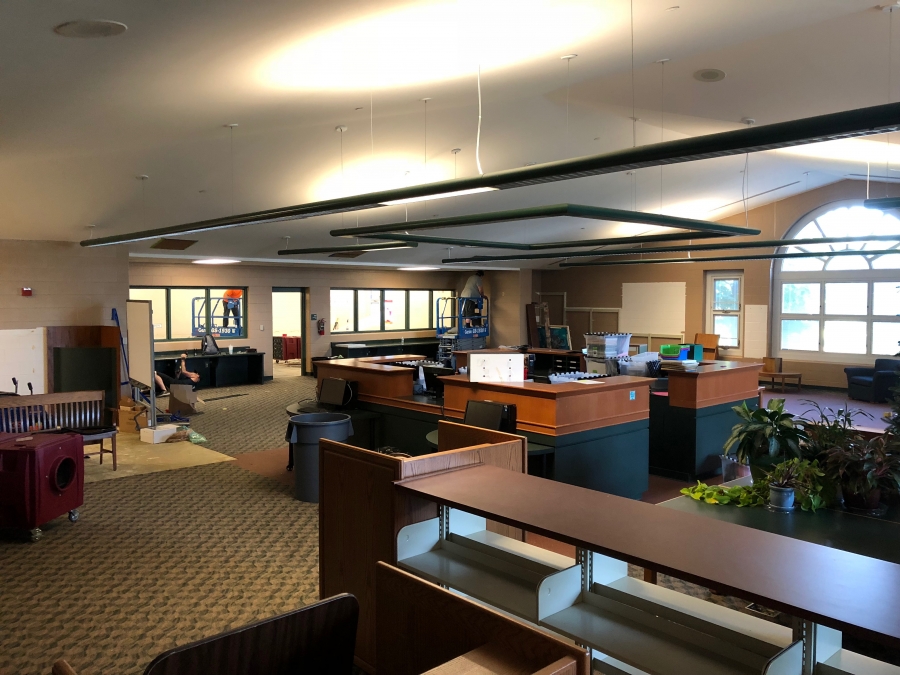 A failure of the electronic controls of Little Miami High School's air conditioning system last month has resulted in moisture damage to the building's media center and other adjacent areas.
A possible lightning strike during the weekend of June 16-18 shorted out all four of the control panels that manage the fresh air damper system over the front office, the teacher's lounge, the Warren County Career Center's business classroom and the media center. The dampers defaulted to full open, which meant hot humid air was drawn into the building over a time period where temperatures topped 94 degrees with heat indices above the 100-degree mark.
These conditions existed throughout the weekend. When custodial crews arrived on Monday, they discovered moist slick floors, buckled ceiling tiles and the beginning of mold growth in the areas in question.
As the district's HVAC vendor made repairs to the control panels, the district contacted Stacy Do, an indoor air quality specialist from EcoPure Cincinnati to assess moisture levels.
"The measurements I took indicated that humidity levels in the building reached 60 to 70 percent, which are optimal conditions for mold to grow," Do said. "Mold is a symptom of a moisture problem. Making necessary repairs to the building's HVAC system and completing a thorough clean-up should contain the issue."
The Little Miami Board of Education approved not-to-exceed $94,417 contract with DryPatrol on Monday, July 9, to clean up the damaged areas and dispose of ceiling tiles, carpeting, drywall, laminated surfaces that cannot be cleaned and most of the books in the high school media center.
Air samples were also taken in surrounding areas such as the high school front office, the teachers lounge area and in Career Center's classroom. Do said mold levels were low in these areas and will be checked again after the remediation is complete.
Remediation of the damage should take about a week. Air scrubbers have been stationed through out the areas and vented to the outside. All shelving will be removed from the area and cleaned outside. In addition, according to the contract, all areas affected will be HEPA vacuumed, cleaned and treated with anti-microbial. This includes inside and outside of all cabinets.
Superintendent Greg Power said that while the damage to the media center is disheartening, the building would be ready to receive students on the first day of class Aug. 13.
Treasurer Terry Gonda told the Board Monday that he has been in contact with the district's insurance company to see if the damage is covered.