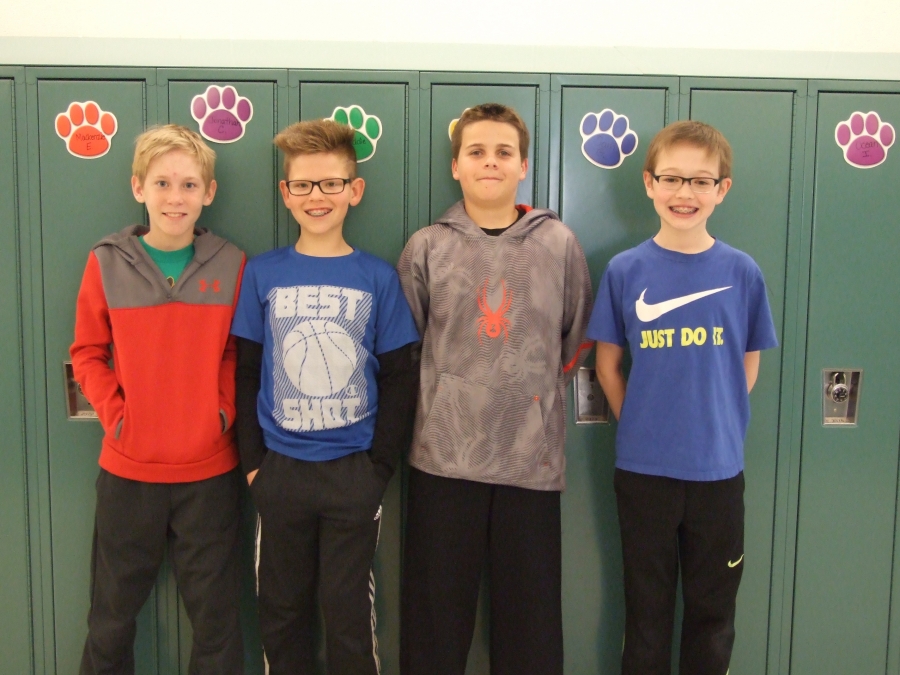 (From left) Ryan McCollister, Cougar Hirschauer, Jake Wittenauer, Nicholas Wing
If you could increase your investments by 29 percent in six months, would you do it? What if your brokers were sixth graders?
Heavy investment in the medical sector helped Little Miami Intermediate School students Cougar Hirschauer, Jake Wittenauer, Nicholas Wing and Ryan McCollister do just that. Their savvy investing was enough to win first place among all Ohio elementary schools in the Stock Market Game.
In the Stock Market Game, teams are given an imaginary account of $100,000 to invest in a stock portfolio of their choosing with the goal of growing their money over 10 weeks. Team members have specific roles and must do research, keep records of stock sales and purchases and study market reports to make the best investments.
The LMIS team, advised by teacher Erin Dipzinski, concentrated their funds in medical stocks, along with technology stocks and bank stocks like Capital One and Fifth Third. They ended the game with $129,000 in their account.
After winning, the team then prepared a 10-minute PowerPoint presentation for a panel of judges explaining all that they had learned and gained from their experience this year. They then traveled to the University of Cincinnati Economics Center on April 24 in order to compete in the Stock Market Game Portfolio Challenge, with a chance of winning a trip to Wall Street. They competed against the state's top middle school and high school teams. The two teams with the most impressive presentations will have the opportunity to travel to New York City to give their presentation to executives at Goldman Sachs, Lazard and Legg Mason. The LMIS team did not advance, but performed well.
Little Miami Intermediate School has a history of incisive investment minds. In 2016, a team of four students led by then-adviser Judy Todia won the Portfolio Challenge. The Four Stocketeers traveled to New York, thanks to sponsorship from Ohio National Financial Services.