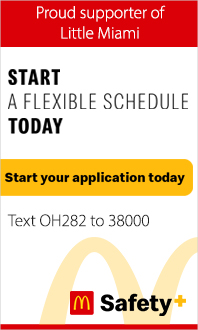 A New Chapter Has Begun
The community's support of a bond issue in May 2018 set into motion a new chapter in Little Miami's history. Over the next three years, construction of an all-new early childhood school will occur along with additions to three other buildings.
With construction will come change, in everything from parking and traffic flow, to grade reconfigurations and school calendars. As we move through this exciting time, we would again ask for the community's support, input and patience.
Resources
Videos
Documents/Handouts
Timeline
Parents, teachers and administrators discussed the vision for new educational spaces in September 2018.
May 8, 2018: Community approves $64.6 million bond issue
July 31, 2018: Board passes resolution to select design professional firms
Sept. 19-20, 2018: Parents, teachers, administrators visit Institute of Applied Creativity for Transformation at the University of Dayton for construction project visioning
Sept. 25, 2018: Board passes resolution to accept the Ohio Facilities Construction Commission master plan and ELPP project agreement
Nov. 26, 2018: RFQ advertised for construction manager services
Nov. 27, 2018: Board approves contact with Emersion Design for architecture design services ($4,019,276) and approves OFCC visioning report
Dec. 10, 2018: Sale of $59.6 million in bonds on bond market; an additional $5 million in notes to be sold in January, 2019
Dec. 10: Initial planning meeting with stakeholders to program additions to intermediate, junior high and high school
Jan. 24, 2019: Public update meeting held at Little Miami High School
Feb. 26, 2019: Board approves contract with Skanska Megen VII as construction manager. Programming for new early elementary school completed
March-May 2019: Schematic designs of LMIS, LMJH and LMHS addition completed
May 2019: Schematic design of new early elementary school completed
May 28, 2019: Board of Education hears update on preliminary building designs
June 2019: Design development of intermediate school addition completed
August 2019: Construction documents for intermediate school completed and groundbreaking; design development of junior high and high school additions completed
September 2019: Design development of new early elementary school completed
Oct. 2019: Ground broken for Intermediate School addition.
December 2019: Construction documents for junior high and high school additions completed
Summer 2020 (approx.): Intermediate school addition complete
Spring 2021 (approx.): Junior high and high school additions complete
Fall 2021 (approx.): New early elementary school complete
What do these terms mean?
Programming
Using information from the visioning process, Emersion Design/Fanning Howey will develop a list of spaces and square footages for the school and additions.
Schematic Designs
Emersion will take this list and develop concept floor plans. The firm will also determine the "massing" of the buildings (size, shape and how they are situated on the site), and general aesthetics of the exteriors.
Design Development
Emersion will finalize floor plans, then create exterior and interior elevations and will finalizing all building materials.
Construction Documents
Emersion will create actual drawings that the construction crews will use to build the buildings.
Frequently Asked Questions
Large gathering space inside K-12 school in Eminence, Ky., visited by Little Miami stakeholders in December 2018.
All construction projects will not be done until fall of 2021. Will shifting of students and staff occur before that time?
More than likely yes, but specifics have yet to be determined. Stakeholder input will be vital to this discussion.
Could construction affect the school calendar?
Yes, the 2021-2022 Little Miami school calendar could impacted by our construction projects. It is too soon to tell what those changes may be, but any changes will be communicated to our families as early as possible.
Parking at some of these buildings is already limited. How will this be handled when construction is going on?
The key words here are flexibility and patience. We already know that traffic and parking will be challenges for those buildings that will have construction projects. The construction manager will be working with the architect firm and the district to develop a workable plan to manage traffic in and around these sites. This plan will be communicated with our families as early as possible.