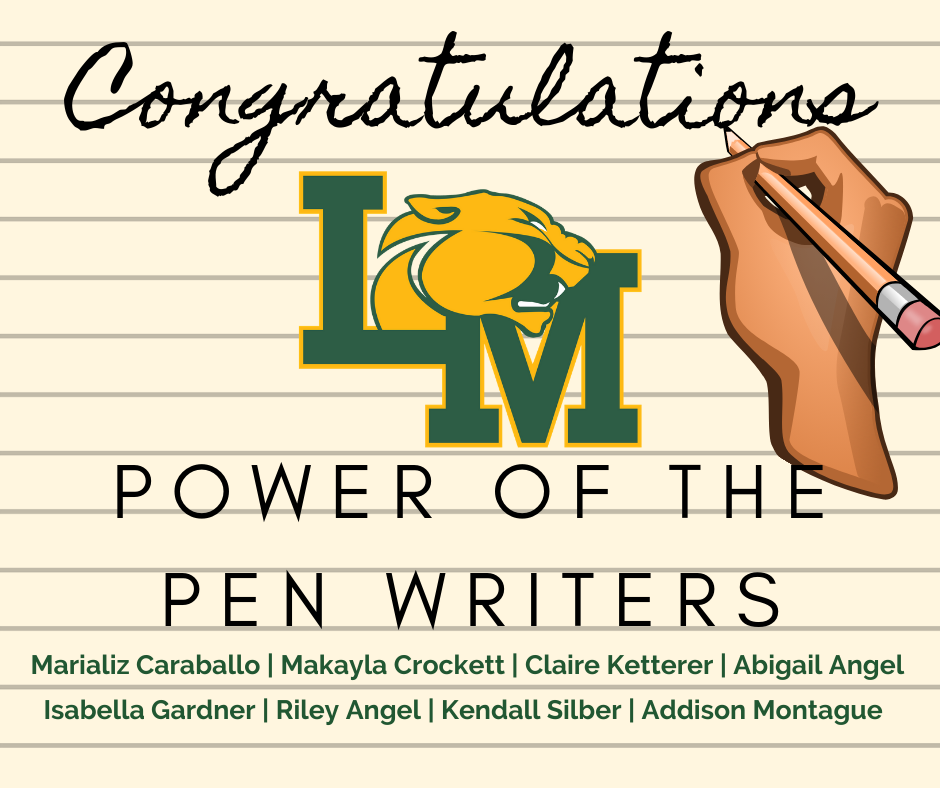 Congratulations are long overdue for the LMJH Power of the Pen writing team! A few select student writers are headed to the State Level Writing Tournament on May 15th! We are so proud of your writing skills and want to celebrate your creativity!
What is Power of the Pen?
Power of the Pen is a statewide organization for 7th and 8th grade students to demonstrate their writing skills via competition. In a normal year, students compete at a District meet and can move onto a Regional level and State level tournament. In previous years, Little Miami Junior High has been a host school, inviting writers from different schools in the Southwest Ohio to compete. Last year, LMJH had nearly 200 student writers from 20 different schools attend the District meet. After that meet, 40% of the writers competing at Districts moved onto Regionals at Wyoming, and 20% of those writers moved on to the State competition held at the College of Wooster.
During a writing tournament, teams of six students from each school compete in three different rounds of writing. In each round, students are given a prompt which they have 40 minutes to develop a narrative based around. What these kids are able to come up with in just 40 minutes is truly amazing! The work of these student writers is scored by writing judges, allowing writers to earn an individual score and a team score. The scores also determine which writers move onto the next level of competition.
Eight LMJH students qualified for and competed at the Regional Tournament on February 27th. After their spectacular performance at Regionals, two writers, eighth graders Riley Angel and Isabella Gardner, have qualified for and advanced to the State meet on May 15th.

7th Grade Regional Qualifiers: Marializ Caraballo, Makayla Crockett, Claire Ketterer, Abigail Angel
8th Grade Regional Qualifiers: Isabella Gardner, Riley Angel, Kendall Silber, Addison Montague
2021 State Qualifiers: 8th graders Riley Angel and Isabella Gardner