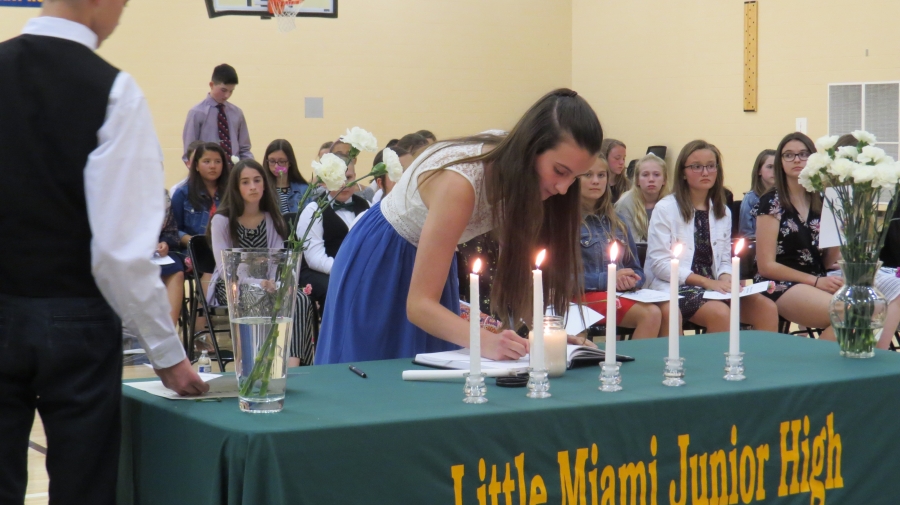 More than 30 Little Miami Junior High students achieved a high academic honor May 13 by being inducted into the National Junior Honor Society.
Students in 7th and 8th grade who have maintained a 3.5 GPA or above and who have exhibited leadership and a commitment to service were selected for the honor. In order to be considered, a student had to complete an application which was then reviewed by a committee made up of LMJH teachers. The committee determined whether students exhibited the Five Pillars of leadership, service, scholarship, citizenship, and character in the classroom. That decision, along with responses on their applications, were final determining factors.
This is the third year for the National Junior Honor Society after the program restarted after going dormant in 2010. Current members who were inducted last year have a service project that they will need to complete in order to stay with NJHS as current members.
Eighth grade inductees:
| | | |
| --- | --- | --- |
| Halle Anderson | Shelby Barrett | Hannah Cherry |
| Libby Gastrich | Emily Marlow | Kaitlyn Mount |
| Chloe Strawn | Lainey Wiggins | |
Seventh grade inductees:
| | | |
| --- | --- | --- |
| Maddie Armentano | Riley Babb | Emma Baker |
| Owen Benbow | Faith Bullock | Abigail Burwick |
| Mia Camp | Elise Cooper | Kenzie Delanoy |
| Journey Delanoy | Mackenzie Evans | Mya Francisco |
| Mae Frazee | Sarah Helphinstine | Thomas Hicks |
| Chandler Huffman | Klaudia Jackson | Kaidence Jaworowski |
| Grant Kosobud | Emma Linnemann | Madeline McCauley |
| Taylor Mielke | Allessandra Patterson | Emma Pinson |
| Kenadee Rexford | Riley Sharp | Sierrah Stauffer |
| Parker Tubbs | Oliver Wagoner | McKenna Waller |