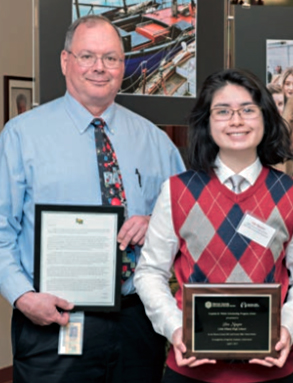 A veteran Little Miami High School teacher was recently selected by a former student to receive a teacher tribute from Stanford University.
Randy Gray was selected by Class of 2017 grad Lien Nguyen to receive a Stanford University Teacher Tribute.
This past summer, students from the incoming class of 2021 were given an opportunity to formally acknowledge an educator who played a significant role in their intellectual, academic and personal development. This project is a central part of Stanford's Teacher Tribute Initiative, which allows students to express their appreciation and honor those who have made a difference in their lives.
"Three years ago, I walked into Mr. Gray's world of science, and I cannot imagine having taken chemistry or physics with anyone else," Nguyen wrote. "From silver test tubes to purposefully setting fires, to a glow-in-the-dark ammonia fountain, none of Mr. Gray's classes ever ceased to amaze me. Mr. Gray fostered the development of my passion for chemistry and I cannot express how grateful I am to have had the chance to learn the wonders of the universe from him."
Gray has been an educator at Little Miami for 40 years.