Side Menu Ends, main content for this page begins
Back to Side Menu (includes search)
Important dates for '19-'20 school year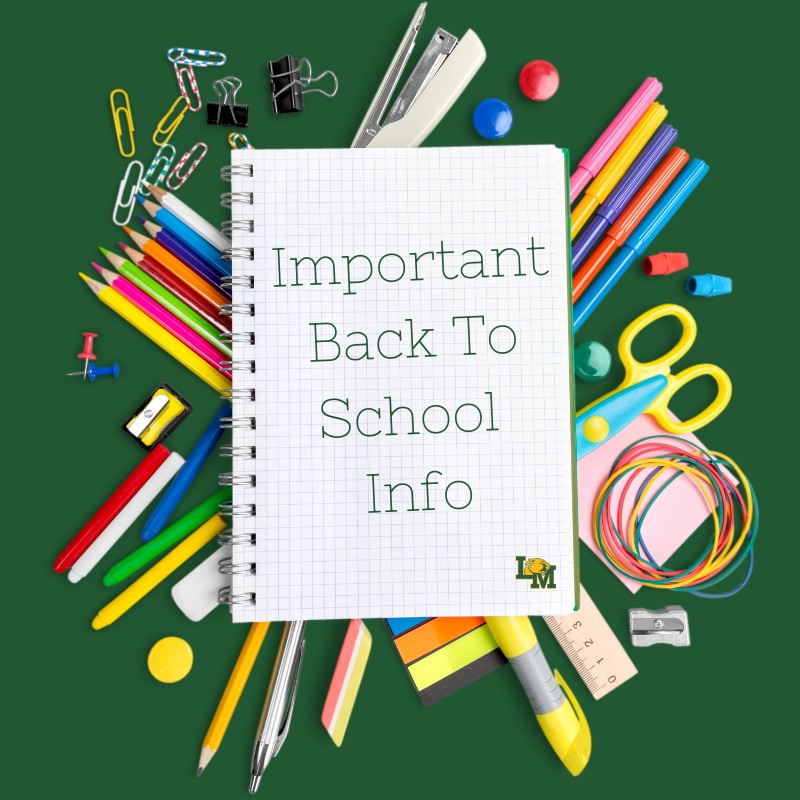 The countdown has begun for the 2019-2020 school year!
Below are important dates for the month of August — including open house dates, schedule pick-ups and more — leading up to the first day of school on Aug. 15.
Note for elementary (K-4) families: Letters to students in grades K-4 were mailed in late July to set up beginning-of-the-year parent-teacher meetings. If you did not receive your letter, contact your building secretary.
Aug. 1
Registration Gateway opens: Little Miami uses the secure portal Registration Gateway to maintain student information and emergency contacts. All parents/guardians are required to update their student's information each year. Link to Registration Gateway.
Parking passes for LMHS juniors and seniors go on sale Aug. 1. Link to parking pass form
Aug. 2
Freshman schedules will be available for pickup in the LMHS octagon from noon to 7 p.m. All past fees must be paid before schedules can be picked up. Schedules for students in grades 10, 11 and 12 will be available in ProgressBook also beginning Aug. 2.
Transportation enrollment forms due. All students requiring daycare or shared parenting transportation should have a form on file before the beginning of each school year. These forms must be updated each school year.
Aug. 5
Aug. 6
Class assignment letters for LMIS fifth and sixth graders mailed home.
Aug. 9
LMJH schedule pick up, 8-11 a.m. and noon-3 p.m. Schedules will also be available on ProgressBook that day.
Aug. 12
K-4 Parent-Teacher Meetings (by appointment)
LMJH Open House

Grades 7/8, last names A-M: 11:30 a.m.-12:30 p.m. OR 5-6 p.m.
Grades 7/8, last names N-Z: 12:30-1:30 p.m. OR 6-7 p.m.
Aug. 13
K-4 Parent-Teacher Meetings (by appointment)
LMIS Open House

Grades 5/6, last names A-M: 1-2 p.m. OR 5-6 p.m.
Grades 5/6, last names N-Z: 2-3 p.m. OR 6-7 p.m.
Aug. 14
LMHS Open House

Advisory 5-5:10 p.m. (pick up schedules)
1st Period: 5:13-5:21 p.m.
2nd Period: 5:24-5:32 p.m.
3rd Period: 5:35-5:43 p.m.
4th Period: 5:46-5:54 p.m.
5th Period: 5:57-6:05 p.m.
6th Period: 6:08-6:16 p.m.
7th Period: 6:19-6:27 p.m.
Beginning at 6:30 p.m., counselors will be having a meeting for any parents interested in knowing about high school graduation requirements and programming for students. An Activity Fair will also be held in the octagon.

Meet the Team Night will begin at 7:15 p.m. at the stadium and will include a performance by the Little Miami Marching Band.
Aug. 15