Side Menu Ends, main content for this page begins
Back to Side Menu (includes search)
COVID-19 Quarantine Protocol Updates
Posted on: January 8, 2021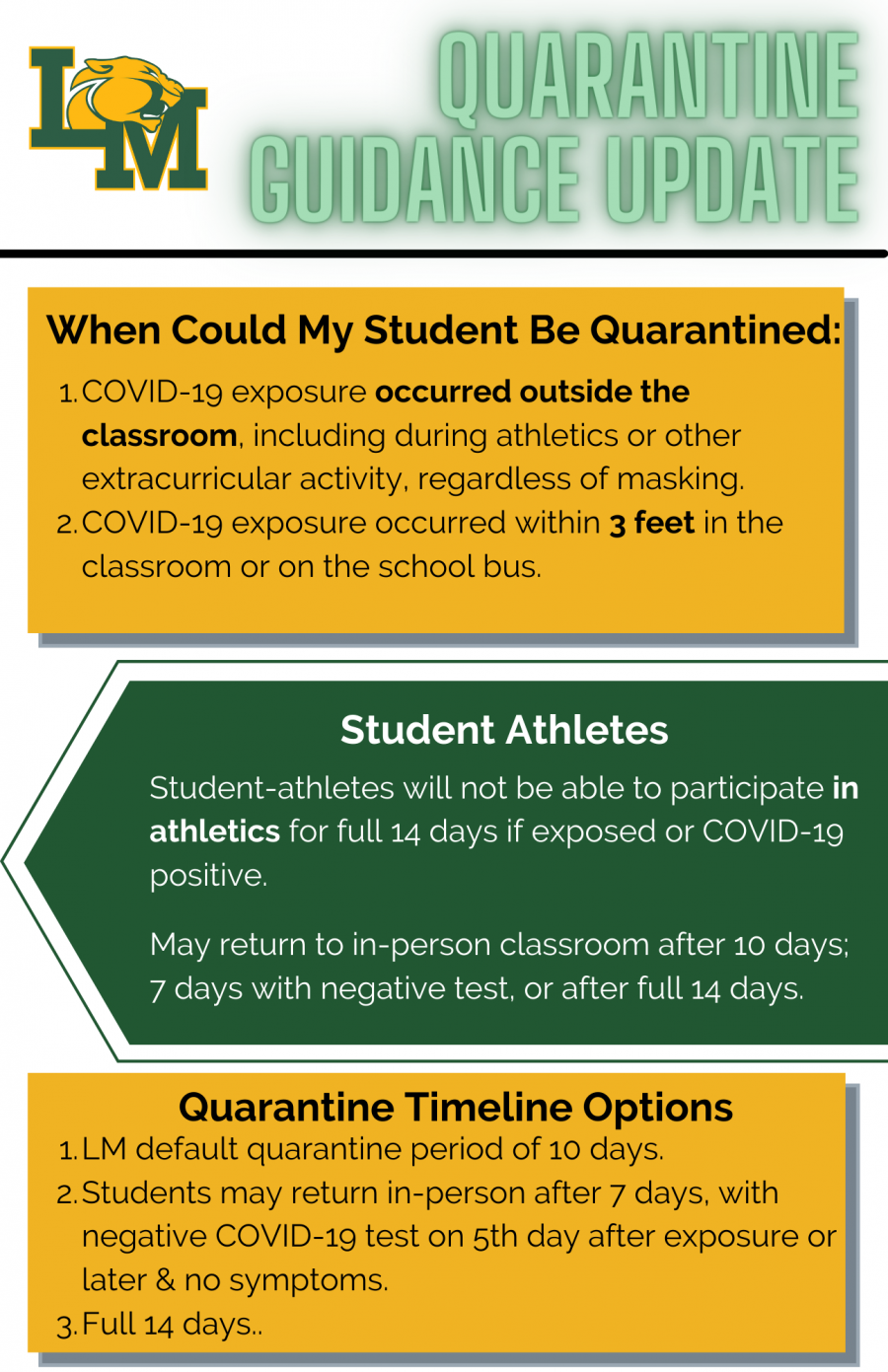 The Ohio Department of Health (ODH) has recently released updated quarantine guidance regarding student exposure to COVID-19 in the classroom. These updates were decided upon after ODH underwent a semester-long study of COVID-19 classroom transmission in Ohio public schools. These new guidelines aim to keep students healthy while keeping them in the classroom for the optimal learning experience. Little Miami will continue to work diligently to implement these guidelines district-wide.
Students and adults in K-12 schools may continue to attend in-person school after a classroom/school bus COVID-19 exposure, if the following conditions are met:
The school has documented COVID-19 prevention policies, including universal mask wearing, social distancing, hand-washing, identification and management of students exhibiting symptoms of COVID-19, and routine environmental cleaning and disinfection protocols.
The person with COVID-19 and any associated contacts were wearing face masks that covered their nose and mouth at all times.

If exposure occurred during lunch, a distance of at least 6 feet between students must have been maintained.

Social distancing of greater than 3 feet while in the classroom/on the bus was maintained.
When a Student Will be Quarantined
COVID-19 exposure occurred outside the classroom, including during sports and other extracurricular activities, regardless of masking.
COVID-19 exposure occurred within 3 feet in the classroom, on the school bus, or any other common space.
Student-Athletes
If a student-athlete has a confirmed case of COVID-19, or has been exposed to someone with COVID-19, they will not be allowed to participate in athletics for the full 14-day period.
Student athletes may return to the in-person classroom after 10 days; after 7 days, with a negative COVID test on the 5th day after exposure or later; or after the full 14- day period is completed.
Quarantine Timeline Options
Little Miami has a default quarantine period of 10 days, unless a parent has decided to keep their student out for the full 14 days.
Students may return to in-person school after 7 days, with a negative COVID-19 test on the 5th day after exposure or later and are not exhibiting symptoms.
Quarantining for 14 days is still the "Golden Rule" – and is required in athletics according to OHSAA.
Click here for the full K-12 School Quarantine guidelines issued by ODH.
COVID-19 Reminders
Please help us have a healthy Second Semester of in-person learning. If there is a COVID-19 pending test result in your immediate family, EVERYONE should stay home from work or school. Inform your child's school and your employer that your family is in quarantine. As we move back to in-person learning on Monday, January 11th, please be sure to send your student to school with a mask & backup in case a replacement is needed. It is essential we all follow these guidelines before sending students to school:
Conduct a student wellness check including temperature prior to sending a student to school
Students with temperatures over 100°F should stay home
Provide a face covering (mask or gaiter) for your student to wear during the school day
Provide your student with a water bottle, as water fountains are not be available for use