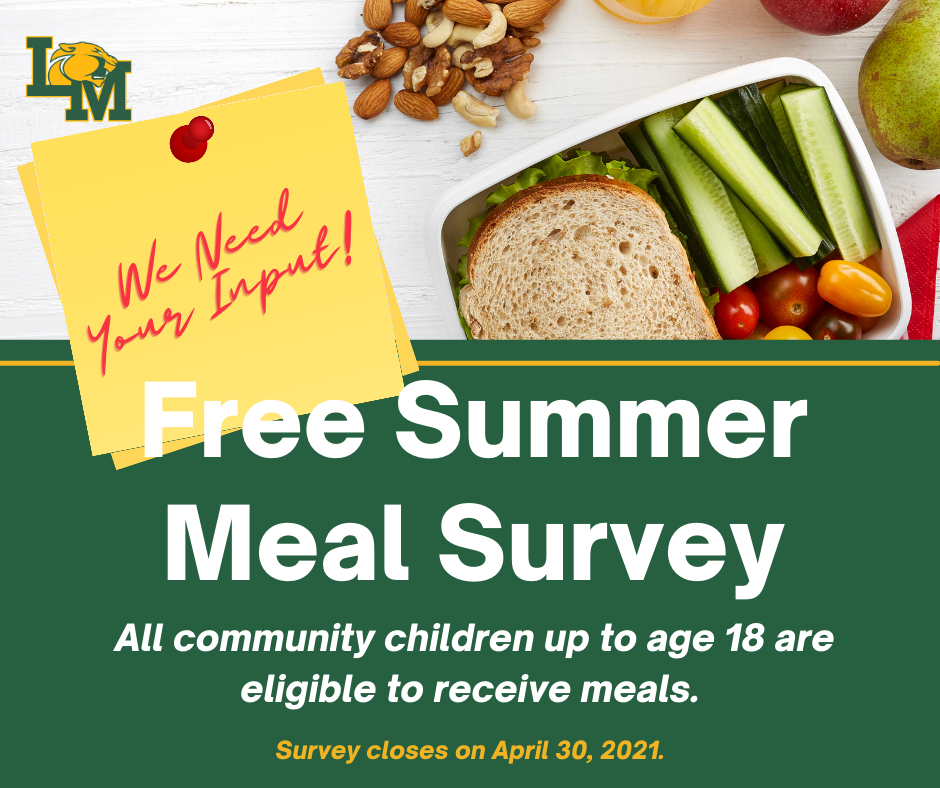 Little Miami's Food Service Department is so excited to announce that thanks to the USDA's extension of free meals due to the Coronavirus pandemic, we now have the ability to offer free meal packs for the entire summer to any child in the Little Miami School District, ages 0-18 years old. Children do not have to be enrolled in Little Miami Schools in order to be eligible for this program.
The meal packs include 5 different frozen lunch entrees, 5 different frozen breakfast entrees, 10 servings of fruit, 5 servings of 100% juice, 4-5 cups of vegetables and a half gallon of milk. All entrees will be frozen and will need to be heated at home.
We would work to offer a variety of entrees each week, with some different items each week.
A sample menu may include:
Lunch
Tony's Cheese Pizza
Beef, Bean and Cheese Burrito
Beef Pepperoni Calzone
Grilled Cheese Sandwich
Chicken Tenders with a Roll
Breakfast
Cherry Frudel
Cinnamon Roll
Mini Donuts
Waffle
Pancakes
Fruit
2 Apples
2 Oranges
2 Applesauce Cups
2 Dried Cranberries
2 Peach Cups
Vegetables
Kernel Corn/Corn on the Cob
Sliced Carrots
Green Beans
Broccoli/California Blend
Baby Carrots
Marinara Sauce
Fruit
5 - 4.23oz. Juice Boxes in assorted flavors
Milk
Choice of 1% White Milk or 1% Chocolate Milk
Meal Pick Up Information
Curbside meal pick up is planned for each Wednesday from 11:00AM – 6:00PM – rain or shine!
Location is at Little Miami Intermediate School on the Zoar Road side of the building.
Children do not need to be present to pick up the meal packs. Families can pick up meals for other families.
We Need Your Input!
In an effort to plan and prepare to serve our community this summer, we would like to know your interest level in this program. Please click here to answer this brief survey. The interest survey will close on April 30, 2021. By participating in this survey, you are not committing to sign up for the Free Summer Meal Program. There may be a sign-up process in the future.
If you have any questions, comments or concerns please contact Rachel Tilford, [email protected] or 513-899-5130.