Side Menu Ends, main content for this page begins
Back to Side Menu (includes search)
Notification System Test - October 20, 2021
Posted on: October 20, 2021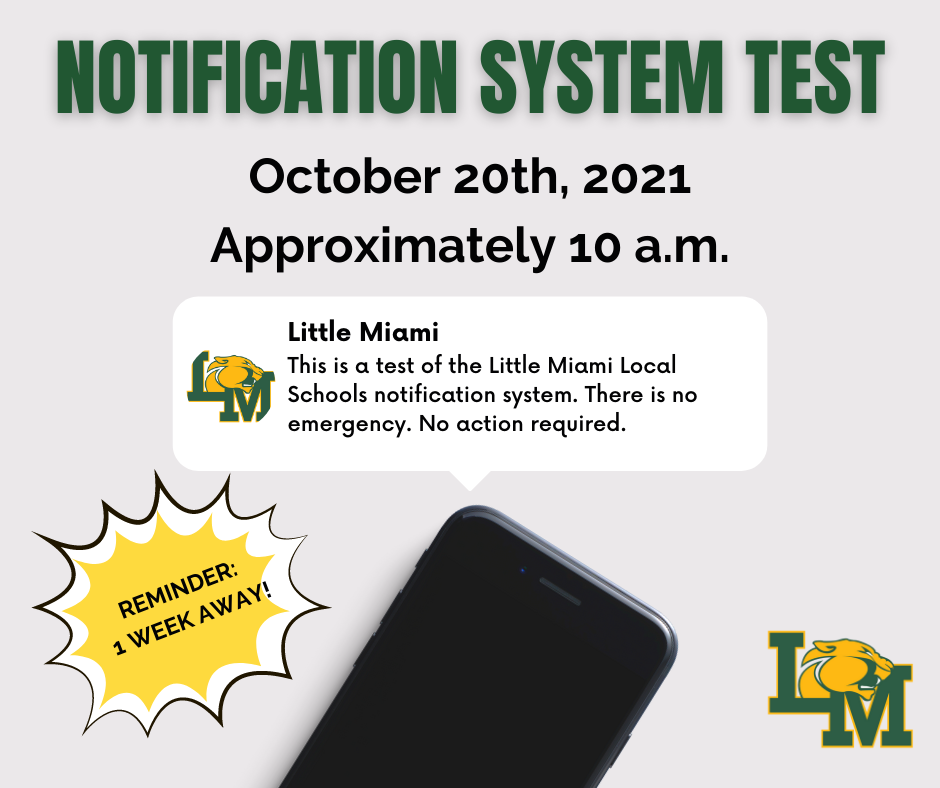 On Wednesday, October 20th, 2021 at approximately 10 a.m., Little Miami Local Schools will conduct a test of the district notification system via phone call, email, and text. Those listed as "Parent/Legal Guardian" and/or "Same as Student Address" in their student's Student Information profile should receive the notification.
The test will read: "This is a test of the Little Miami Local Schools notification system. There is no emergency, this is just a test. No action is required. Thank you."
This test is to prepare & improve LM's emergency communication capabilities prior to a true emergency and in readiness for the inclement winter weather season. Those who do not receive the notification on October 20th, are asked to email [email protected] with their name, contact info, and student name to ensure they are included on future communications.
_
Did You Get the Message?
If you did not receive a text, email, and phone call, we would like to help! Here's what to know before you send an email for support:
Have you updated your contact information in the Update Portal? This needs to be done EVERY year! Check here to update: https://update.littlemiamischools.com
If you have updated your info this school year & did not get a test message, below are some easy & quick solutions.
Didn't receive the text message? – Text YES to 67587 in order to opt-in.
Didn't receive the email? – FIRST check your Spam/Junk folder! If you do not see an email from LM Communications, send an email to [email protected] with your name, student, & preferred email address.
If you did not receive a phone call with this information & would like to receive phone alerts from LM in the future, please send an email to [email protected].
Thank you for participating in this year's test notification message!