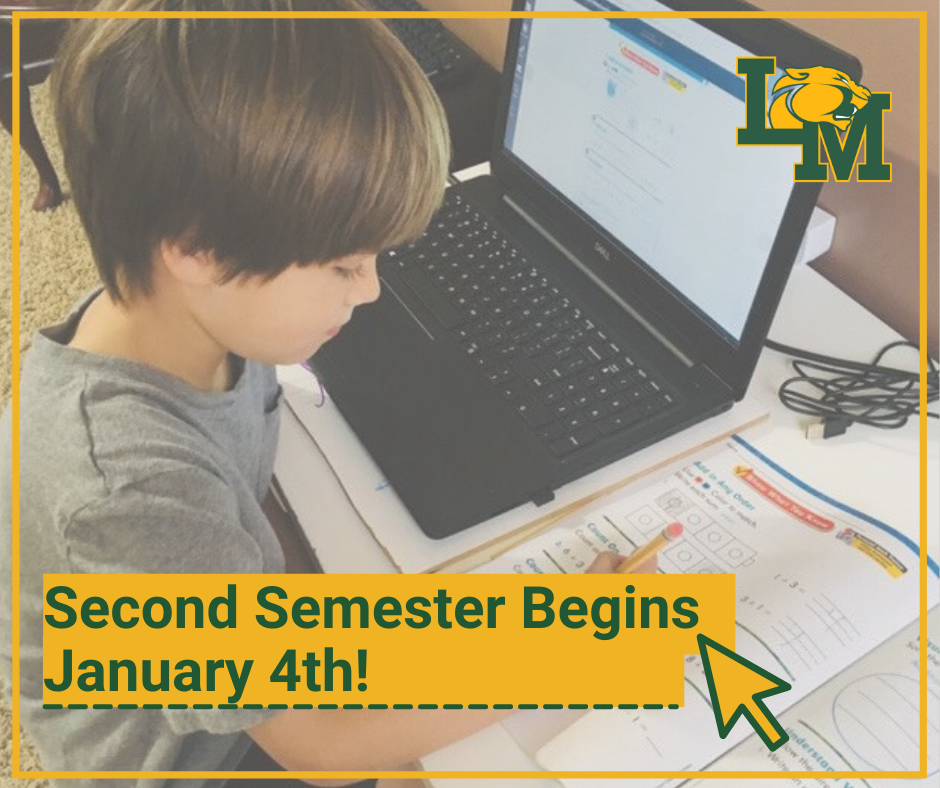 Second Semester starts next Monday, January 4th! Here is what you need to know:
In-Person Students:
Second Semester instruction will begin remotely for the week of January 4-8. In-person classes will resume on January 11. Please check Schoology frequently this week for updates and information from your teachers regarding next week's instruction. Junior High & High School students will be on a typical bell schedule.
If your student is transitioning to in-person learning from VLA, please visit the Parent Portal for transportation information, lunch balance information, Schoology and Progress Book access. If your student still has a district-issued device they used for VLA last semester, they may keep this device for next week's remote learning instruction. Students in grades 7-12 will receive a different device once in the building.
VLA Students
Jefferson County Education Service Center is currently uploading VLA Second Semester students and their courses. If you are new to VLA, you and your VLA student(s) will be receiving login credentials from [email protected] Parent credentials will be emailed to your email address on file. Student credentials will be emailed to your student's LM email account ([email protected]). Please note that students must use the student credentials to have access to all VLA information. If you do not have your login credentials by January 4, please email [email protected]. If you were enrolled in VLA during First Semester, you will use your same login credentials.
Teachers in grades K-8 scheduled their orientation and welcome prior to Winter Break. Grades 9-12 teachers are planning their orientation and welcome on January 4. Please be looking for their invitation.
-----
Little Miami has been thrilled to offer free breakfast and lunch meals to ALL students through the 2020-2021 school year. These meals are nutritious and delicious- containing 10 servings of fruit, 5 cups of vegetables, 5 100% juice boxes and a half-gallon of milk! Families that would like to receive five days of meals (including 5 breakfasts and 5 lunches) during next week's Remote Learning Week can pick up meals on Monday, January 4; Tuesday, January 5; or Wednesday, January 6 at the locations & times below.
Any child 0-18 years old living in the Little Miami School District is eligible to pick up meals. Families do not have to be enrolled in the school district to receive meals. If you are unable to pick up meals at the specified times, someone else may pick up on your family's behalf. VLA Families may pick up meals on any day.
There is no sign up required to receive meals, so if interested, please arrive at one of the following pickup locations/times:
Locations and Times
Little Miami Intermediate School – Zoar Road (side by service entrance)
Monday, January 4, 2020 10:00 am – 5:30 pm
Tuesday, January 5, 2020 10:00 am – 5:30 pm
Wednesday, January 6, 2020 9:00 am – 5:30 pm
Little Miami Junior High – (front of the building)
Tuesday, January 5, 2020 10:00 am – 2:00 pm
Wednesday, January 6, 2020 9:00 am – 2:00 pm
*Please take note, you will only pick up meals one time for the entire week. If you have questions regarding meal pickup, please contact Rachel Tilford: [email protected].