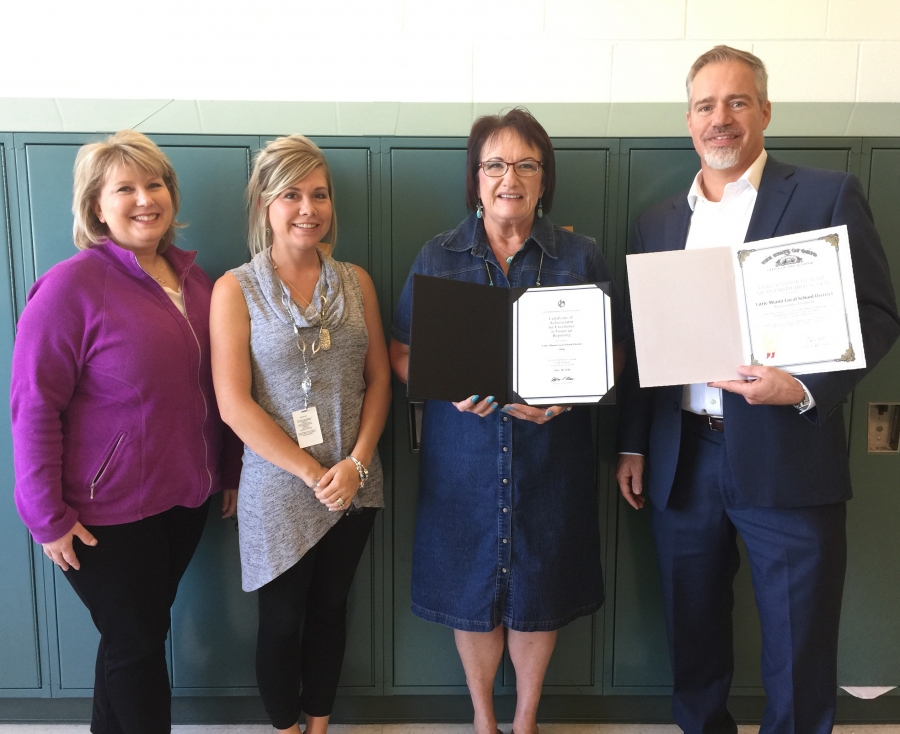 Little Miami treasurer's office staff (from left): Kathryn Jones, Katrina Hillard, Susan Murray, Terry Gonda
The Little Miami treasurer's office has been recognized once again for excellence by a state agency and a national accounting organization.
Ohio Auditor David Yost's office recently notified LM Treasurer Terry Gonda that his department had been awarded the Auditor of State Award with Distinction for fiscal year 2016.
"Clean and accurate record-keeping are the foundation for good government and the taxpayers can take pride in your commitment to accountability," Yost wrote in a statement.
The Auditor of State Award with Distinction is given to entities that file an annual comprehensive annual financial report (CAFR) and timely financial reports in accordance with GAAP, as well as receive a "clean" audit report. The "clean" audit means that an annual financial audit did not contain findings for recovery, material citations, material weaknesses, significant deficiencies, single audit findings or questioned costs.
This is the fifth straight year the LM treasurer's office has received a clean audit.
Gonda also learned recently that his department earned a Certificate of Achievement for Excellence in Financial Reporting by the Government Finance Officers Association of United States and Canada (GFOA) for Little Miami's CAFR. The Certificate of Achievement is the highest form of recognition in the area of governmental accounting and financial reporting and its attainment represents a significant accomplishment by a government and its management.
The CAFR was judged by an impartial panel to meet the high standards of the GFOA program, which includes demonstrating a constructive "spirit of full disclosure" to clearly communicate its financial story and motivate potential users and user groups to read the CAFR.
"These awards would not be possible without the hard work and dedication of my staff," Gonda said. "We strive daily to be good stewards of our taxpayers' dollars and my staff really does a fantastic job of keeping track of all the thousands of items that pass through our hands."