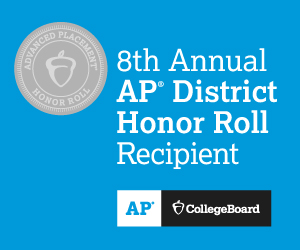 Little Miami Local Schools recently learned it was named to the 8th annual AP Honor Roll by the College Board.
Only 433 districts across the United States and Canada earned the distinction of being listed in the Advanced Placement Honor Roll. This is the second year Little Miami has been named to the AP Honor Roll.
Districts on the AP Honor Roll have simultaneously increased access to Advanced Placement coursework while maintaining or increasing the percentage of students earning scores of 3 or higher on AP exams. Inclusion on the honor roll is based on the examination of three years of AP data, from 2014 to 2016.
Little Miami High School offers nine AP courses in a traditional classroom setting, and an additional 14 AP courses online. Students who take AP courses and score a 3, 4 or 5 on the annual AP test can earn college credit for those courses.